Thursday 10-15-20 12:00 am (Eastern) 7:00 pm
Location: VIRTUAL ZOOM PROGRAM
VIRTUAL ZOOM PROGRAM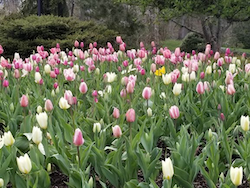 The Friends of The Frelinghuysen Arboretum are pleased to present the following free Zoom program.
At The Frelinghuysen Arboretum, tulips are a spring showstopper. Every year, the gardeners plant thousands of bulbs to delight the public. Horticultural Display Foreman, Kristin Prommel, will discuss what goes into the annual bulb installation, including design, layout and planting. She will also touch on what happens to the bulbs after the show is over in the spring and what can be done to conceal fading bulb foliage.
The program is free, but registration is required. Please fill out the registration form by clicking here.
Please note: When you submit your registration, your ONLY confirmation will be on the screen that shows you've successfully registered. Please make a note of it! Registration will close at 11:00 AM on the day of the event. A Zoom link will be sent to you by 12:00 PM on the day of the event. Please check your spam folder if you have not received the Zoom link by this time. This program will not be recorded or held again this fall. Contact lbencivengo@arboretumfriends.net with any questions prior to 4:00 PM on the day of the event.