Tuesday 09-22-20 12:00 am (Eastern)
Location: RECORDED PROGRAMS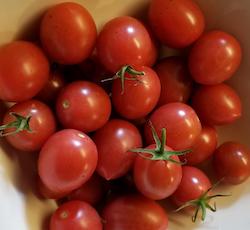 In our opinion it's not possible to have too many Tomatoes!
Watch Chef Cynthia Triolo in this recorded cooking demonstration all about tomatoes. She'll make a pasta, some bruschetta and a tomato sorbet that you are sure to love. Recipes will be available as well!
PLEASE NOTE THAT THE SEPTEMBER 22 DATE IS THE LAUNCH DATE FOR THE PROGRAM. SINCE THIS IS A RECORDED PROGRAM YOU CAN REGISTER TO RECEIVE THE LINK AND WATCH THE PROGRAM AT YOUR CONVENIENCE. Once received, you can view it at any time.