Saturday 02-04-23 01:00 pm (Eastern)
Location: Haggerty Education Center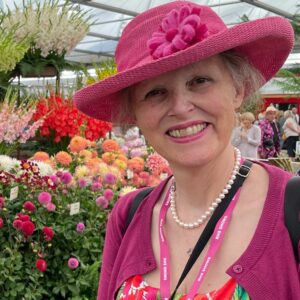 Since 1979, the Friends of The Frelinghuysen Arboretum have supported horticultural education through a scholarship named for Dr. Benjamin Blackburn. Speaker Jenny Rose Carey will discuss her new book The Ultimate Flower Gardener's Guide: How to Combine Shape, Color, and Texture to Create the Garden of Your Dreams.
Ms. Carey will discuss how the colors, shapes and scents of flowers are as ravishing to the senses as to the soul. But, it's all too easy to get things wrong: colors that clash, flowers that bloom at the wrong time, plants that fail to thrive. She will explain exactly how to get started, how to combine plants for the most spectacular effects, and how to keep your garden going from year to year. Whether you're interested in dramatic color combinations, how best to use a favorite flower or how to create a garden for a specific purpose, such as nourishing pollinators, you'll find the answers in Ms. Carey's presentation. As she says, "Don't be afraid – just have a go"!
Ms. Carey is a renowned gardener, educator, historian and author. She is also the former senior director at the Pennsylvania Horticultural Society's Meadowbrook Farm in Jenkintown. Jenny Rose has been lecturing nationally and internationally for many years. She previously worked at Temple University for over a decade, first as an adjunct professor in the Department of Landscape Architecture and Horticulture and then as director of the Ambler Arboretum. Her Victorian property, Northview, contains diverse garden spaces, including a cutting garden, an herb garden, a dry garden and various mixed flower beds.
Jenny Rose is the co-author with Mary Ann Fry of A Century of Cultivation, the author and photographer for Glorious Shade Timber Press 2017 and The Ultimate Flower Gardener's Guide, Timber Press 2022.
Dr. Blackburn was a professor of Botany at Drew University. His involvement with the Morris County Park Commission began with his friendship with Henry and Robert Tubbs, whose property, Willowwood, eventually became the Willowwood Arboretum. Dr. Blackburn published many articles and wrote a number of books on gardening as well as being the host of a very popular radio gardening program. He generously shared his vast knowledge and deep love for horticulture with many staff members in the Horticulture Division and with his countless fans, members of the Friends of The Frelinghuysen Arboretum and area garden clubs.
Admission fees for this program support the scholarship that is offered to students in the Landscape Technology Program at County College of Morris (CCM). This scholarship allows interested students the opportunity to explore the different horticultural, environmental and design studies offered through the accredited CCM program. The increased knowledge the students acquire in the classroom and through hands-on programs at CCM will benefit them as they enter their chosen field in horticulture and landscape design.
The presentation will be followed by a book sale and signing. Light refreshments will be served.
This program will not be recorded.
This program is eligible for 1.0 Rutgers Master Gardener CEUs