I think of irises the same way I feel about comfort food. It was a plant that was in my grandmother's garden, and probably there before her time too. The cheery flowers, the pale green, swordlike foliage, and upright stance are valuable assets to any garden. And there is a wide variety of cultivars are available for varied sites and soil conditions.
Iris germanica, or the familiar bearded iris, has an amazing array of colors. Earl of Essex has white petals stippled and edged in violet, and has the distinction of being a rebloomer. Feed-Back is fragrant and a stunning blue-violet. Immortality (at right) is fragrant too, with ruffled soft white petals and pale lemon beards. It is also a rebloomer, as is Clarence, a near white with light blue falls. Jurassic Park has a buttercup yellow standard and lavender falls, and is a multiple award winner in the iris world.
The variety Iris pallida 'ÄòArgentea Variegata' (below) features soft green leaves with creamy white edges and a violet flower. The foliage makes it a standout in the garden.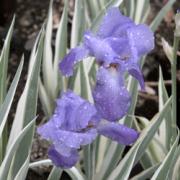 Iris ensata or Japanese Water Iris lives happily in wet sites, unlike its bearded cousin. It is also tolerant of partial shade. Fortune has purple falls while Loyalty is deep purple with yellow stripes on purple crests. Lion King is a collector's favorite with strong white centers edged in deep violet. And Rose Queen is a delicate beauty with a unique pale rose pink hue and flowers in a pendant form.
Last but not least is Iris siberica or Siberian iris, with grasslike leaves topped by showy, beardless flowers. Tolerant of both wet and dry sites, Caesar's Brother is a deep blue violet. White Swirl is similarly site tolerant, with a yellow throat surrounded by creamy white petals.
All irises are low maintenance and have that all important feature, great deer resistance.
Sally Hemsen