Pleasing Plant Combos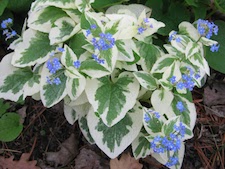 Brunnera variegata
For Shade
Here is a great combination for the shady garden with the added bonus of deer resistance.
The early Spring blooming Brunnera variegata offers delicious sky blue flowers in May and white flecked, heart shaped leaves for interest the rest of the Summer. Combine this with the textural foliage of the pink flowered Astilbe Rythm 'n Blues which has plumey pink flowers from June to August. For another unique textural element add Rodgersai Fireworks with its large, leathery, copper edged leaves and glowing pink flowers in June and July. Fill in with Lady ferns (Athyrium Lady In Red) for a picture perfect garden grouping.
For Sun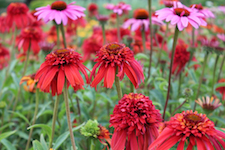 Echinacea Orangeberry
Start with the graceful foliage of Amsonia hubrechtii and its delicate blue flowers in Spring. This 3 foot tall perennial has fantastic Fall foliage of buttery yellow. Add bold clusters of pink, aging to bronze, flowers of Sedum Auntumn Fire. Sturdy stems keep this sedum from flopping. Butterflies and bumblebees love this plant.
And now for the real wow factor add Echinacea Double Scoop Orange for non-stop bloom. This is another deer resistant combo. Why not go bold in the garden this Summer with this great combination.
For a Cottage Garden From Spring to Fall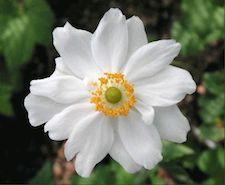 Anemone Whirlwind
Start with that all time favorite plant, Peony Eden's Perfume that will fill the air with sweet fragrance in May and sports gloosy foliage the rest of the year. Follow it up with the Summer blooming Leucanthemum Highland's White Dream whose daisy-like flowers will bloom until frost (a little deadheading please).
For more white for Fall bloom add the 3 foot Anemone Whirlwind. To add some color plant hollyhocks like Alcea Halo White, Alcea Peaches 'n Dream or Alcea Indian Spring. Alchemella mollis would make a lovely edger for this grouping with dew kissed foliage and chartreuse flowers in June and July.