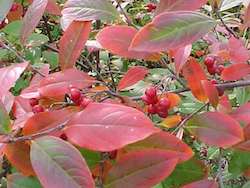 Aronia arbutifolia Brilliantissima
Aronia arbutifolia 'Brilliantissima' – Chokeberry
This beautiful variety of a native, deciduous shrub has white flowers in May and develops bright red fruits that persist into winter. The fruits are very ornamental and a food source for wildlife. The plants are salt tolerant and will grow in moist sites as well as average soils. This adaptable shrub grows 6-10 ft. tall and not usually browse by deer.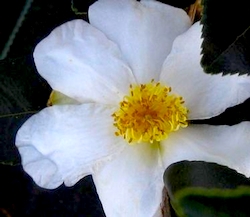 Camellia oleifera Lu Shan Snow
Camellia oleifera 'Lu Shan Snow' – Camelia
'Lu Shan' is a very cold tolerant camellia with single, white flowers. It is evergreen and Fall blooming, tolerating full shade. It will add a little excitement to a shady corner. This is a plant that will take you out of your comfort zone with no regrets. This striking shrub is fully hardy in our area. It will bring some new excitement to the autumn garden.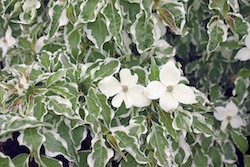 Cornus kousa Wolf Eyes
Cornus kousa 'Wolf Eyes' – Kousa Dogwood
'Wolf Eyes' is a fabulous dogwood with variegated foliage in white and green. The leaves have a ruffled appearance making it an unusual compliment to the garden. The fall color is a striking mix of red and pink. White flowers in June are followed by ornamental fruits. The tree grows best in partial to full shade so that the delicate white edges of the leaves do not scorch. Mature specimens are only about 10 feet high which makes this a great tree for planting near a shady patio.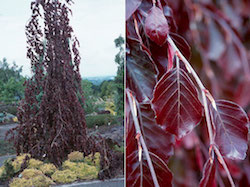 Fagus sylvatica Purple Fountain
Fagus sylvatica 'Purple Fountain' – Weeping European Beech
A small ornamental tree Purple Fountain is colored deeply purple with a graceful habit. It is strongly upright with a tightly weeping form, forming a lovely cascade effect. The leaf color changes to bronze by mid summer. The weeping branches and bark add winter interest. It grows slowly to a height of 25 ft. and a spread of 15 ft. Add this to your landscape in a place where you can appreciate its' elegant form and view it year round.
==Marla Jackson, Woody Plant Chair