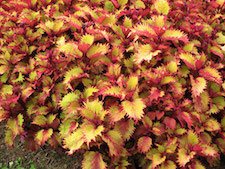 C. Henna
A dazzling assortment of coleus plants awaits you inside the big tent this year. Their colors are bold, vibrant and look like an artist splashed them with color. Their leaves are eye-catching with serrated edges (C. Henna), or ruffles (C. Lime Ruffles) and even scalloped (C. Dipt in Wine), adding much needed texture to your planters and mixed borders.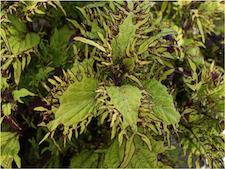 C. Gold Anemone
The new and exciting "Under the Sea" collection of coleus is a must have for every garden. Vividly colored and fantastically complex these plants resemble the tropical fish they are named after. C. Bonefish has fuchsia leaves with wavy chartreuse edges, grow to about 12 inches and will flourish in full sun. C. Gold Anemone is a medium size plant with green gold leaves surrounded by a delicate purple edge.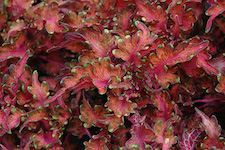 C. Molten Coral
Or, if you prefer red, try C. Molten Coral or C. Red Coral. C. Molten Coral has small crinkly leaves of red with lime green tips and tinges of orange. Choose one or buy them all. This unique coleus is sure to spice up your containers and bring a smile to your lips. It is a plant collection to have fun with!
Easy to grow, adaptable from full sun to shade if planted in moist, rich soil with a little pinching to keep them full, they will reward you throughout the growing season. As an added bonus they are listed as plants rarely damaged by deer according to Rutgers University.
==Robin Morley