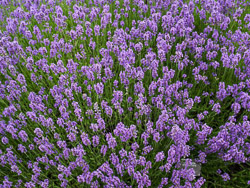 Munstead Lavender is a great choice for New Jersey gardeners. Deer and rabbit resistant, butterflies love it and so do bees. This compact cultivar was introduced in 1916 and grows 12-18″ high and wide. Find a dry to medium, well drained site in full sun and you'll make a friend for life (or for a long time at least).
Considered an "English" lavender because of its ability to grow in colder climes, Munstead is also more suitable for culinary use than other types of lavender. A favorite of landscape designer Gertrude Jekyll, we can easily imagine her sipping a cup of lavender tea.
Here's how to make one: chop 2 tablespoons of freshly cut lavender florets and steep them in 8 cups of boiled water for 10 minutes. Strain. Add honey. Or better yet, add lavender honey that you learned how to make at "Presherbation" a summer workshop offered this year in September.
==Lesley Parness